Usted puede ayudar a los estudiantes, a los que quieren comenzar un negocio propio y a las familias a alcanzar el Sueño Americano!
A través de toda la nación, la libertad económica permite que las empresas puedan invertir, que los individuos puedan ahorrar y que las comunidades puedan alcanzar el éxito. En The LIBRE Institute nos concentramos en promover la libertad económica y le ofrecemos a la comunidad hispana las herramientas que necesita para ser más libre y más próspera.
Su donativo ayudará a llevar los ideales de la libertad individual, del estado de derecho y de la libertad económica a todas las comunidades. Sería un honor para nosotros el poder contar con su apoyo.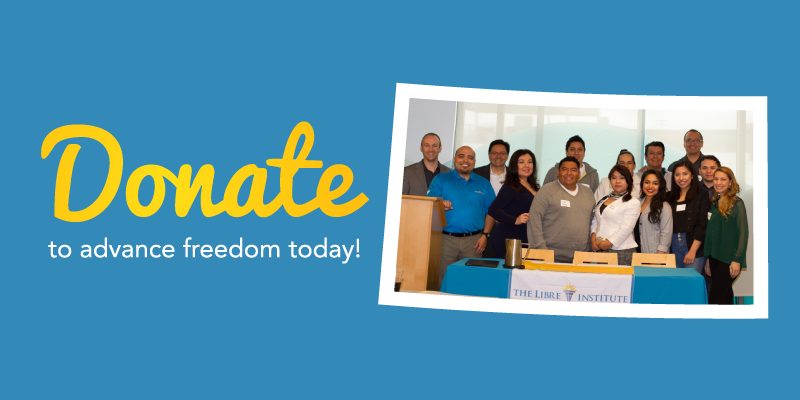 Do you have questions about your support, or our work? Please feel free to contact us via email or phone for more information:
703-650-1070 EXT. 321
info@libreinstitute.org
If you would like to make a contribution by mail, please make your check payable to Americans for Prosperity Foundation and send to:
Americans for Prosperity Foundation
1310 N. Courthouse Road, Ste. 700
Arlington, VA 22201
The LIBRE Institute is a project of Americans for Prosperity (AFP) Foundation. AFP Foundation is a section 501(c)(3) non-profit organization under the Internal Revenue Code (EIN 52-1527294). Contributions to AFP Foundation are tax deductible to the extent provided by law.